Many people ask the question How to become a Project Manager. No doubt they all know very well that to become a Project Manager they have to put a lot of effort. Every activity and every profession, as we all know, requires a lot of learning and perseverance.
What are the ways to become a Project Manager?
At the end of this article, we will talk about courses and certificates. Before you start looking for the best certification for you, first read all the material. To make it easier for you, we can recommend you to take a look at the new modern project management certification of BVOP.org. The certification process includes a quick and easy online exam. the price for the exam and certification is great and achievable for everyone today.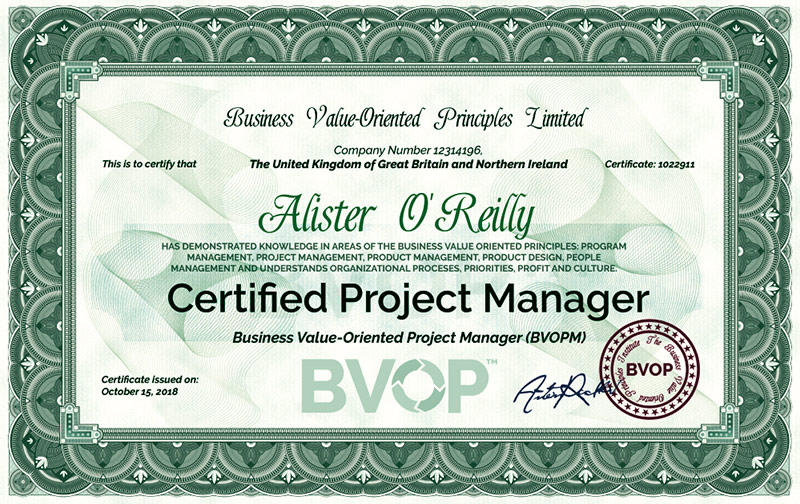 Prepare for your new professional future as a Project Manager.
For a start, it is good to have some general business culture and knowledge in the general business.
It is nice to have a good relationship with the people around you because at some point these people can be your team.
Soft skills are something very important nowadays. It often happens that you find yourself in conflict situations around you or even yourself and cause conflicts. Today, you must just make an unpleasant situation and thus create the conflict. often these troubles occur because of his understanding of communication between people.
A basic financial culture would also be very important to you as a start. It is good to have an idea of ​​what is a contract annex invoice clauses in a money transfer contract and so on.
It is also good to know that every business activity is related to resources. The main resources are money time and staff.
So in addition to soft skills, it is good to have a good financial and business culture in general.
It is advisable to observe your directors and business owners and how they make great efforts to gain a new client or invest in their business.
This way you will understand over time that business is not an easy job and requires nerves and often leads to stress and tension.
When you are aware of this fact you will respect much more your directors, employers, clients, employees, and the project as a whole.
Project manager training
Before you consider enrolling in an expensive university and studying Plovdiv Management, think about alternatives. there are countless good courses as well as many books and articles on the internet that will give you all the knowledge you don't need to get started.
There are also many templates on the Internet that are your project management tools and documents that you handle in a real environment.
Take a few days or even a week or two to find out all the documents and templates you download online and view on your computer.
If you don't understand something, just google it. Today, every popular document or template is described clearly and accurately and in detail.
It is also good to understand that project management in general is a standardized practice and easy to understand.
What you will read and learn is that each project starts with planning then moves on to the basics of development tests and finally completion.
The most important thing for you as a project manager is to provide quality documentation and clear requirements and specifications for the project.
If you can do that, then you will be a great Project Manager in the future.
Technical documentation and business requirements
Learn what is technical documentation and business requirements. We recommend that you even practice at home and write technical documentation and business requirements. Check what you have created and make a self-assessment.
Then you can do the same again. Do it even for the third time until you are finally satisfied with your results.
What is the secret of good documentation business requirements and technical specifications?
When creating such a document technical requirements and business requirements and specifications always put yourself in the place of the people who will read them. They will be your team and must understand everything you have written.
If they do not understand your documents and your opinions, they will constantly ask you what they mean and what they should do. this constant consultation with you will lead to delays and then nervous and interested parties. This is the way to become a bad project manager.
You are a project manager and need to establish an order.
Without standard clear processes, your project is doomed to failure.
No matter how professional a team you have without them knowing what's next and what they need to do, the people around you will have problems.
Therefore, you will also have problems. In time, your project will be officially declared a failure.
You will lose both your job and your reputation.
Therefore, you need to create processes and standards.
Learn what project management processes are. This is not a difficult concept to understand. We have already mentioned the main topics. You need planning, then creating the project, and finally closing.
The hardest part of project management is planning. Project planning involves a lot of topics and this is probably one of the longest activities.
You need to plan approximately how long you will create the project. However, you need to know exactly what you are going to do. This is called the scope of the project. Ask stakeholders around you. talk to the client and ask questions until everything is clear and precise. Keep notes of what you hear.
Once long enough after the birth of the client and stakeholders, you are ready with the idea of ​​the project. Reference: Business change and stakeholder engagement.
Now you just have to write everything in business style in literary language.
To find out how long it will take to complete the project, just look at how many staff you have available.
If you have a few people who will develop the product, maybe it's time to ask for more staff.
This is how you plan the staff and the time to create the project.
Once you know exactly what you are going to do and how many people you have, you will be able to calculate the total cost and create the project.
Assemble your team, review all the documentation you have already collected, and everything you have written. ask each person around you what they think and what they will offer you as necessary materials and resources.
Think about it and do enough research.
This way you will have a good collection of the necessary materials and resources for the project.
How to manage software projects?
Managing software projects is the same as managing any other project.
Just find out what the Software Development Life Cycle (SDLC) is. Reference: Project Management and the Development life cycle.
Scrum
Find out what Scrum is and what Agile methodologies are.
This is not difficult to understand at all and many people are scared at the beginning.
The only new thing is that you just have some work cycles. With each cycle or period, you make a retrospective and demonstration of what has been achieved.
Good to know what a product owner is. Scrum master is another interesting title for software projects.
Let's go back to the classic project management.
Release planning
Release planning is the planning of the activities for handing over the project where it belongs. (Reference: Project Planning approaches in project management) If you have made software, describe who will install it and where. if you've created an ad campaign, specify who is responsible for passing this campaign to the customer. Whether it will be videos or some other advertising formats, just think and explain the activities.
Give a good schedule with good accurate forecasts. All activities one by one on the release of the project must be specified. Write down all the participants who will participate in the process. Put dates and even exact times if necessary. More on the topic: Agile project management and project plans.
Project closing
Let's say your project is ready and it's all over. Time to prove your readiness. Thus, you do not enter the phase of project completion or rather closure.
Project closing is the popular term for this.
This activity is also not difficult but can take a little desk work.
Make a list of absolutely all the functionalities and all the completed work on the project.
Note in a column, for example, that all tasks are completed one at a time.
Send your document to your quality control manager and your technical team manager. See also: Quality control and quality assurance in Project Management and Agile practices, Scrum Time (ISSN 2652-5445).
If they are confident in the work done, they just need to sign.
Also, put your signature as a Project Manager.
Then send your document to your directors and stakeholders.
Understand Waterfall project management. Learn about it: Waterfall and Incremental model in project management: https://wikipedia-lab.org/waterfall-and-incremental-model-in-project-management/
Daily log and lessons learned
Find out what a diary is. Daily log and lessons learned. every time something interesting, pleasant, or negative happens, state very briefly in your diary why and how the events happened this way.
Your work as a project manager is over.
Of course, project management can involve other activities, but these are the basics and most often there is nothing more complicated.
Conclusion
You already know that project management is not rocket science and has nothing scary or complicated in it. You just need a little practice and confidence. Learn patience and details.
Courses and certificates
Now is the time to look for an easy and enjoyable short course that will give me more interesting information. Get a certificate. Gift Certificate Manager. so you will want to prove your skills and your perseverance and motivation. Here you are a review on the BVOP Certified Project Manager (BVOPM).
Another one: https://www.mmrls.org/bvop-certified-project-manager-review/
And another one: Review of the BVOP Certified Project Manager title, Wider Europe, ISSN 2563-1527 https://w-europe.org/the-bvop-certified-project-manager-title-has-been-updated/
Prepare for possible job interviews and be prepared for any misleading and difficult questions. The truth is that the non-staff manager will simply try to mislead or stress you out. That is why it is good to be calm and confident in all your answers.
We wish you success.
Frequently Asked Questions
Read carefully this last part of our material because these are questions that you will not always find online.
What will happen to me if I fail my project?
It is good to know from now on that as a Project Manager you must have your mentor. Often this is your program manager. you should consult them whenever you have any doubts or share when you have a problem.
Sharing problems is called escalation.
With frequent communication between you and your directors, you should have no problems. This is the best way to succeed with your project. if you still fail This means that your directors did not pay attention to you. In that case, you should not blame yourself at all and move forward proudly and with confidence.
The client is constantly changing the requirements and scope of the project. What to do?
The change management plan is a topic we did not discuss earlier but it is good to know about this practice now.
Look for What is a change request form. You will find examples with a simple form. Read more: Change Control and Configuration Management in Project Management practices.
But let's move on to the substance. The truth is that if the customer constantly wants to change something and you do not have fixed requirements, you will really have problems.
There is misinformation on the Internet and in many books that the prodigy manager must control changes well. The project manager really needs to control change, but he can't always.
If you are creating a project for such a problematic client, you need to be confident in your reliable directors. Reference: Applying control in project management
If you do not have their support, of course, you are doomed to failure a lot of nerves and stress.
Business relations and contracts are always stabilized and defined at the level of senior management between organizations.
If you still face such a situation, talk to your directors, and explain the risks they may cause. no doubt this will attract their attention will be involved in the project. Further reading: The Qualitative Approach to Project risk assessment, ISSN 2652-5925 External directors can easily talk to their clients. It is almost certain that constant changes in requirements will decrease.
Get familiar with Project Risk Management: Assessing the Risk in Project management and Quantitative approaches to risk, PolicyMatters ISSN: 1941-8280, 1941-8272.
My team does not respect me and no one performs their tasks.
This is another interesting question and many project managers are facing this problem. you may encounter misleading information that the project manager must control the teams. You are not their parent or their boss. However, remember that you can escalate.
To have a successful team, your organization must hire one. That is why your colleagues from the human resources department are also responsible. You need a Human Resources Management Plan Reference: Human resource management plan in project management practices. Your new recruitment manager has personally selected the people. Always seek the assistance of the human resources department and your directors. More: (www.libraryofmu.org) Human Resources Management plan, new employees and software.
If you come across a very problematic employee, it may be easier to replace him in time than to fight him.
More questions
Here's something else that excites you and you have additional questions do not hesitate to ask.